This is a short clip from a programme in the CBC-TV series, "This Hour Has Seven Days." René Lévesque, leader of the separatist Parti Québécois is being interviewed by Larry Zolf.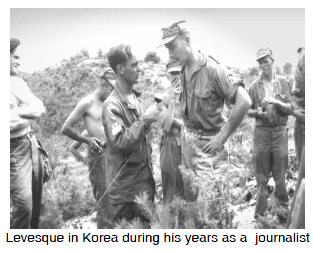 Sitting beside Zolf, is a guest interviewer, Pierre Elliott Trudeau, just before he became Prime Minister of Canada in 1968. He was Justice Minister in the government of Lester Pearson at this time.
René Lévesque founded the Parti Québécois in 1968 and led it to its first victories. Lévesque had been a journalist early in his career. He was a correspondant during the Korean War and hosted one of the first current affairs programmes on Canadian television in the early fifties, "Point de mire." He entered politics as part of the reform government of Jean Lesage and was instrumental in building the strength of Hydro-Quebec.
After leaving the Lesage government in 1967, Lévesque was able to rally disparate nationalist groups in Quebec under one banner, the Parti Québécois. He minimized the extreme voices of Quebec nationalism and achieved a broader base of support by proposing sovereignty-association and by supporting social reforms as well as political goals.
Further Reference