Jean Talon was the first Intendantintendant: an important administrative official in New France, responsible for finance, justice and police in the colony. Jean Talon was the first. of New France and he is remembered for his remarkable accomplishments in helping develop the previously neglected colony.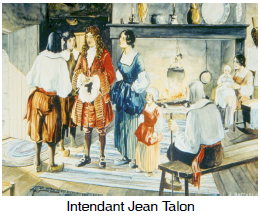 Talon was born in 1626 and educated in Paris. He was sent to New France in 1665 to run the colony and help develop it into a strong part of the French empire. Officially he was the bureaucrat in charge of justice, public order and finance. Talon implemented the program of bringing brides to New France (les filles du roi) and he encouraged the habitants to clear more land and try new crops like hemp and flaxflax: a plant whose fibres can be spun into linen thread. Its seeds are used for linseed oil. which they could use to make rope and linen cloth.
He also started the first brewery, opened a tannery, developed a shipbuilding industry and encouraged the people to raise more livestock like pigs, cattle, sheep and horses. As a result of Talon's efforts, the colony's population by the end of the century had grown from 3000 to 7000, the amount of cultivated land had doubled, and new industries had been established.
Further Reference