Susanna Moodie was born Susanna Strickland in England in 1803, the youngest of six daughters.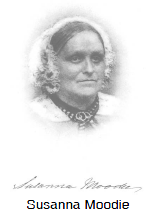 Five of the six Strickland sisters were writers including Catharine Parr Traill. Moodie did some writing in England before marrying John Dunbar Moodie and moving to Canada. A brother was already here and sister Catharine had sailed for the new world just a few weeks earlier.
Moodie began writing about pioneer life as a way of making some extra money. The Moodies were unsuccessful farmers and eventually abandoned farming and moved into the town of Belleville in Upper Canada (now Ontario). Susanna's views about pioneer life were fairly negative. It was a difficult existence for someone raised in middle-class comfort in England.
Her most famous book was called Roughing it in the Bush (1852). Her descriptions of daily life and how she dealt with various crises like illness and fire, provide quite a vivid picture of pioneer life and the ingenuity she had to use to survive it and raise her six children.
Catharine Parr Traill (nee Strickland) was also writing about pioneer life in Canada in the mid-19th century.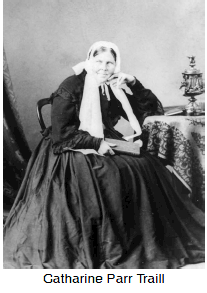 She was born in England in 1802 and emigrated to Canada after she married Thomas Traill in 1832. Catharine Parr Traill was also a naturalist. She studied specimens of Canadian flowers, grasses and ferns and kept careful notes which she eventually worked into a book called Canadian Wildflowers with illustrations by Susanna Moodie's daughter, Agnes. Another botanical work, one of the most extensive at the time, was Studies of Plant Life in Canada (1885).
Perhaps Traill's most famous book on pioneer life was The Backwoods of Canada published in 1836. Here she described the difficulties and challenges of carving out a life in the wilderness. Another book, The Canadian Settlers Guide (1855), contained more narratives, recipes and practical advice for anyone considering the hard choice of leaving the comforts of British middle-class life to come to Canada.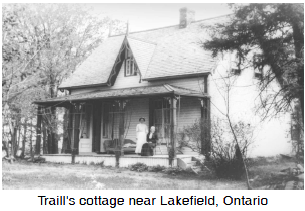 Here they would have to clear land, build their own houses, travel on primitive trails, nurse their families with home remedies because doctors were too far away to come in an emergency, and preserve enough of the fall harvest to take them through a long, cold winter with no grocery stores at hand.
While observing, studying, making notes and writing books and magazine articles, Catharine also raised nine children, four of whom survived her. She was still publishing in her nineties and died in Lakefield, Ontario in 1899 at the age of 97.
Further Reference