The Klondike Gold Rush began with the discovery of gold in a tributary of the Klondike River in August of 1896. As word spread, the flow of adventurers and prospectors increased until it reached its peak in the summer of 1898.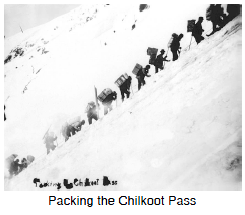 The men who panned for gold were a breed apart. Carrying their knapsacks of supplies they hiked through raw, mountainous territory sifting the rivers and streams in search of the precious yellow metal that could bring them great riches. Over the centuries the rivers flowing to the Pacific had carried gold dust and nuggets along their rushing waters. Because the specific gravity of gold is 19 times more than water, the gold sank into sandbars and banks along the way.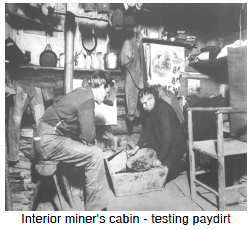 A big gold strike had been discovered around the Fraser River in the 1850s and since then prospectors had been exploring north along the same spine of mountains for more deposits. On August 17, 1896 an American, George Carmack and his Indigenous in-laws "Skookum Jim" and "Tagish Charley," working on a tip from Canadian Robert Henderson, discovered gold in Bonanza Creek, a tributary of the Klondike River.
After they returned to Seattle, the news of their find got out in press reports and the great Klondike gold rush began. Those using the Canadian route crossed the Chilkoot and White Passes and continued by boat down the Yukon River to Dawson City. The rush couldn't have come at a better time. An economic recession had gripped the country for several years and the gold rush boom affected the economies of every Canadian community from Winnipeg to Victoria. The prospectors were followed by saloon keepers, dance-hall girls, traders and other entrepreneurs. In its heyday in 1898 the Klondike region had 30,000 people of which 16,000 lived in booming Dawson City, a town with electricity, movie theatres, banks and hospitals. It also had the North-West Mounted Police.
Created in 1873 after a public outcry over the Cypress Hills Massacre of Assiniboine people by American whisky traders, the NWMP symbolized a real difference between the Canadian and the American experience in the west. In the American gateway to the gold rush, Skagway, Alaska, there was violence, gangsterism and mob justice. Across the border in Dawson City there were no guns. Gambling and prostitution were part of life, but no one was coerced into deals they didn't want and everything closed on Sundays. This was because the Mounties had arrived and established law and order before the flood of miners came to town. American prospectors outnumbered Canadians five to one, so it set up an interesting contrast of cultures when they came up against the Canadian rule of law. Once they were used to the idea, though, they appreciated being able to go about their business without fear of being robbed.
Canadian author Pierre Berton was raised in the Yukon and has written extensively about it including his well-known book, Klondike: The Last Great Gold Rush.
Further Reference